Welcome to "A Thousand Words," a column at The English and Drama Review dedicated to featuring themed artworks at the end of each month to explore the relationships between literature and art. We encourage the display of all art forms—painting, drawing, photography, sculpture, ceramics, design, short film, needlework, and so forth—at this virtual exhibit of sorts. Art recommendations are made by members of our editing team and curated by our Co-Editor-in-Chief, Cristina Coppa.
Family, friends, and food typically gather at the end of autumn to share a bountiful banquet. While I am grateful for the opportunity to see my cherished ones after a long semester, a well-deserved meal was what I needed to get ready for the upcoming finals season. An overwhelming of the senses is necessary to outdo the overwhelming pandemonium of a pandemic, and taste happens to be the most saturated of the five senses at this time of year. Therefore, I leave you with a sampling of artworks with exquisite taste.
— Cristina
---
The Garden of Earthly Delights
Artist: Hieronymus Bosch
Possibly the most famous triptych painting in history, The Garden of Earthly Delights is considered Hieronymus Bosch's most enigmatic creation that depicts three scenes which share the concept of sin. The intricacy of its symbolism, especially that of the central panel, has led to a wide range of interpretations over the centuries. However, for the sake of this column, I will only briefly go over the sinful revelry that dominates the time between the beginning and the end. The esteemed central panel depicts a paradisiacal post-Edenic garden that deceives the senses and exploits color in its imagery. Needless to say, the literary inspiration comes from many biblical passages. Naked figures delight in their merrymaking but also in their gluttony: animals, plants, and fruits are much larger than proper scale dimensions. The composition's brimming with red fruit exacerbates the allusion to Eve and her consumption of the forbidden fruit.
Vertumnus
Artist: Guiseppe Arcimboldo
Explanation
The Dinner Party
Artist: Judy Chicago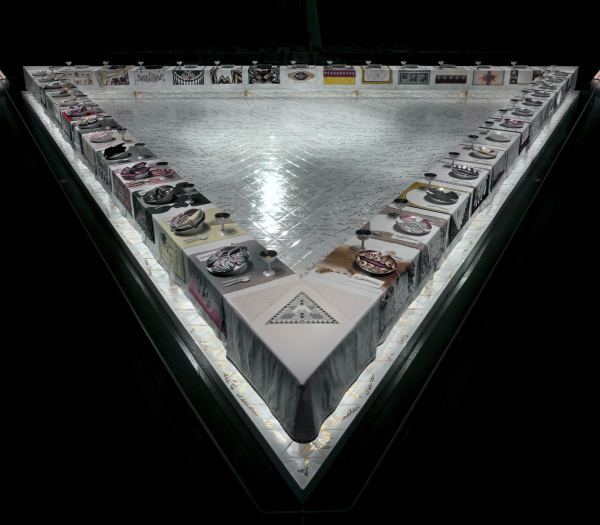 Explanation
Dubling
From: Dubling
Artist: Elida Tessler
Explanation
The Wedding at Cana
Artist: Paolo Veronese
Explanation
---
Correction: April 19, 2022
An earlier and incomplete version of this column was published on November 30. We humbly apologize for the confusion this may have caused.