Welcome to "A Thousand Words," a column at The English and Drama Review dedicated to featuring themed artworks at the end of each month to explore the relationships between literature and art. We encourage the display of all art forms—painting, drawing, photography, sculpture, ceramics, design, short film, needlework, and so forth—at this virtual exhibit of sorts. Art recommendations are made by members of our editing team and curated by our Co-Editor-in-Chief, Cristina Coppa.
Rain has become more frequent and winds have begun to howl. Chilly nights are followed by chilly days. Brightly colored leaves now rot in muddy patches. Winter is coming. Oktoberfest, pumpkins, Halloween…As this month comes to an end, the growing enthusiasm converts into phobophilia and to honor those sentiments, this column will present terrifying works of art that elicit timeless awe.
— Cristina
---
Fallen Angel
Artist: Alexandre Cabanel
Sheer o'er the crystal battlements: from morn

To noon he fell, from noon to dewy eve,

A summer's day, and with the setting sun

Dropt from the zenith, like a falling star

— John Milton
In Paradise Lost, this is how Milton gloriously describes Beelzebub's fall from heaven. Alexandre Cabanel, an Academic painter better known during his time for depicting religious and classical subjects, after having himself fallen from grace in the eyes of critics at the Académie des Beaux-Arts, submitted Fallen Angel in the hopes of winning back their favor. Like many other cohorts of artists, Cabanel felt inspired by Milton's epic poem and came up with this handsome winged rebel—iridescent feathers, tousled hair defying the wind, flexed arm concealing his expression, an angry tear, and raging eyes revealing what his arm cannot hide.
The Nightmare
Artist: Henry Fuseli
Henri Fuseli, a leading figure of Romanticism, probes into the unnerving side of the subconscious in this painting. It's no wonder that Sigmund Freud had a copy of The Nightmare hanging in his apartment in Vienna. This blood-curling work portrays a slumbering woman with an incubus preying on her body. A spectral horse that spooks instead of getting spooked emerges from the blackened background. Most art historians believe that Fuseli's creation was inspired by German folktales. According to legend, lone women were possessed by demons whereas horse phantoms haunted lone men. By incorporating both frightening figures in the composition, Fuseli visually represents the manifestation of a living nightmare.
The Cyclops
Artist: Odilon Redon
Odilon Redon, an individualist who believed in the superiority of imagination over observation of nature, often depicted scenes from classical mythology. In his painting, as in Homer's Odyssey, Polyphemus falls in love with the sea nymph Galatea. Polyphemus, the mythical one-eyed monster, peers out from behind a rocky hilltop while Galatea sleeps in a grotto surrounded by abundant flora. The menace of this giant, or rather of his giant eye, that spies the nude woman is heightened by the alarmingly bright colors that enclose her. With this ethereal depiction, Redon has painted one of the masterpieces of Symbolist art.
The Eye Like a Strange Balloon Mounts Toward Infinity
From: To Edgar Poe
Artist: Odilon Redon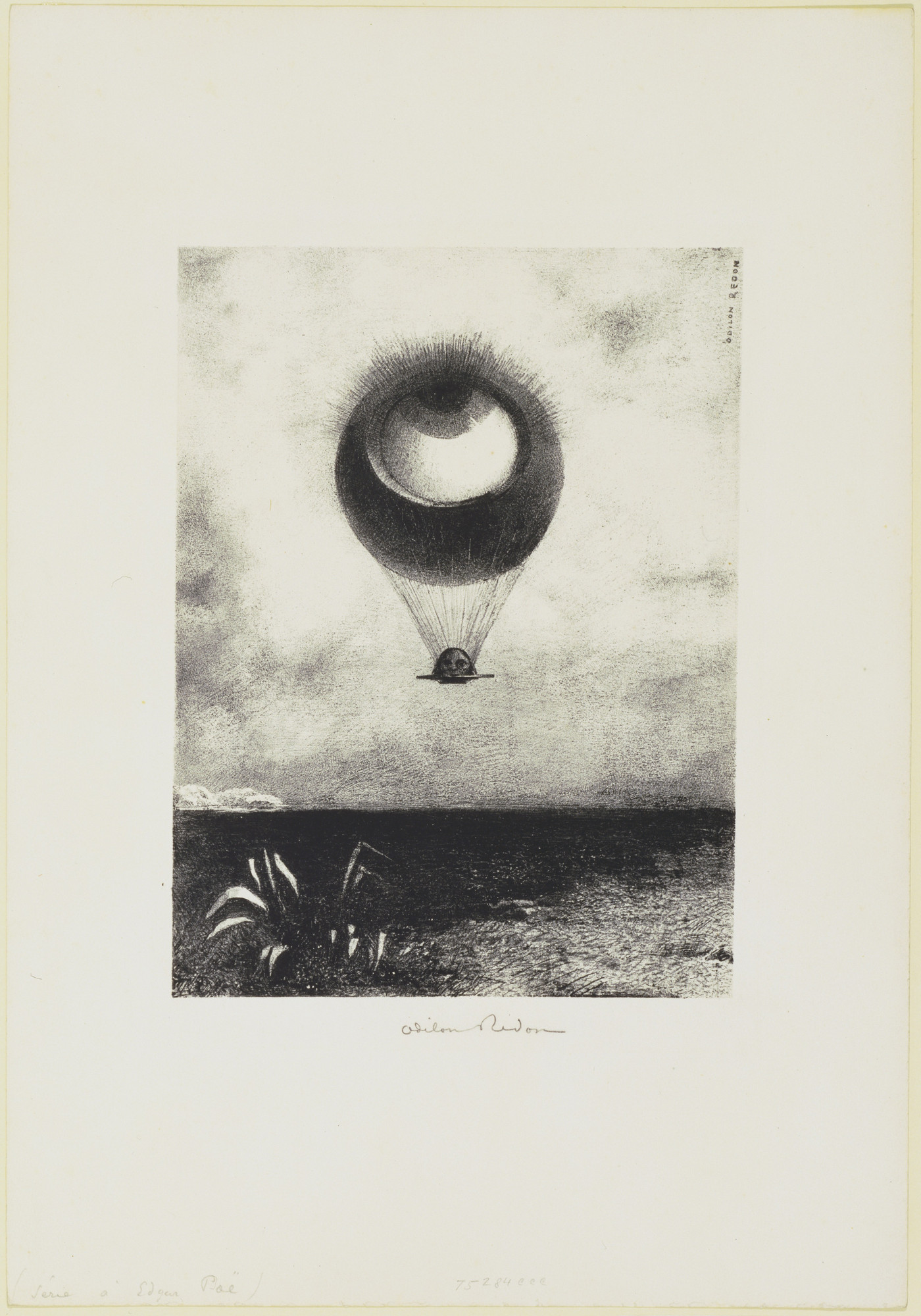 This lithograph was one of six in his series To Edgar Poe. However, the prints were not meant as illustrations of Edgar Allan Poe's poems, but rather as "correspondences," to use Redon's own term. Yet, Poe may not be the sole inspiration for this artwork as it may reference another more religious literary influence. Instead of a basket transporting passengers, the eye-morphed-into-a-balloon carries a decapitated head on a platter, much like that of St. John the Baptist in the Biblical story of Salome. The image of a giant eye floating under clouds is terrifying in itself, but the knowledge that a beheading took place before the balloon took off grounds any hope of the destination being heaven.
---