Welcome to "A Thousand Words," a column at The English and Drama Review dedicated to featuring themed artworks at the end of each month to explore the relationships between literature and art. We encourage the display of all art forms—painting, drawing, photography, sculpture, ceramics, design, short film, needlework, and so forth—at this virtual exhibit of sorts. Art recommendations are made by members of our editing team and curated by our Co-Editor-in-Chief, Cristina Coppa.
Summer leaves and fall leaves start sprouting in greenery not evergreen. And for many, it means reencountering poetry, research, and study. The beginning of the autumnal season sees to the homecoming of students and teachers to classrooms, hallways, and libraries. To celebrate the return to academia, this month's installment focuses on works of academic art that were in conversation with literary hubs of the time.
— Cristina
---
Dante and Virgil
Artist: William-Adolphe Bouguereau
Bouguereau was known for being a French academic painter who often depicted mythological themes and classical subjects. In his third attempt to win the Prix de Rome, he painted one of the judge's favorite scenes from the Inferno of Dante Alighieri's Divine Comedy. In an homage to the canonical Latin poet who Dante so admired, Virgil became his guide through the underworld and showed him the path to salvation. While roaming through the eighth circle of hell, they witness a horrific fight between Gianni and Cappocchio—two souls condemned to eternal combat. The terribilità in this painting is evident in the combatants' straining muscles and agonized faces, yet there is also beauty to be found in the harmonious lines which delineate their supple bodies.
Pygmalion and Galatea
Artist: Jean-Léon Gérôme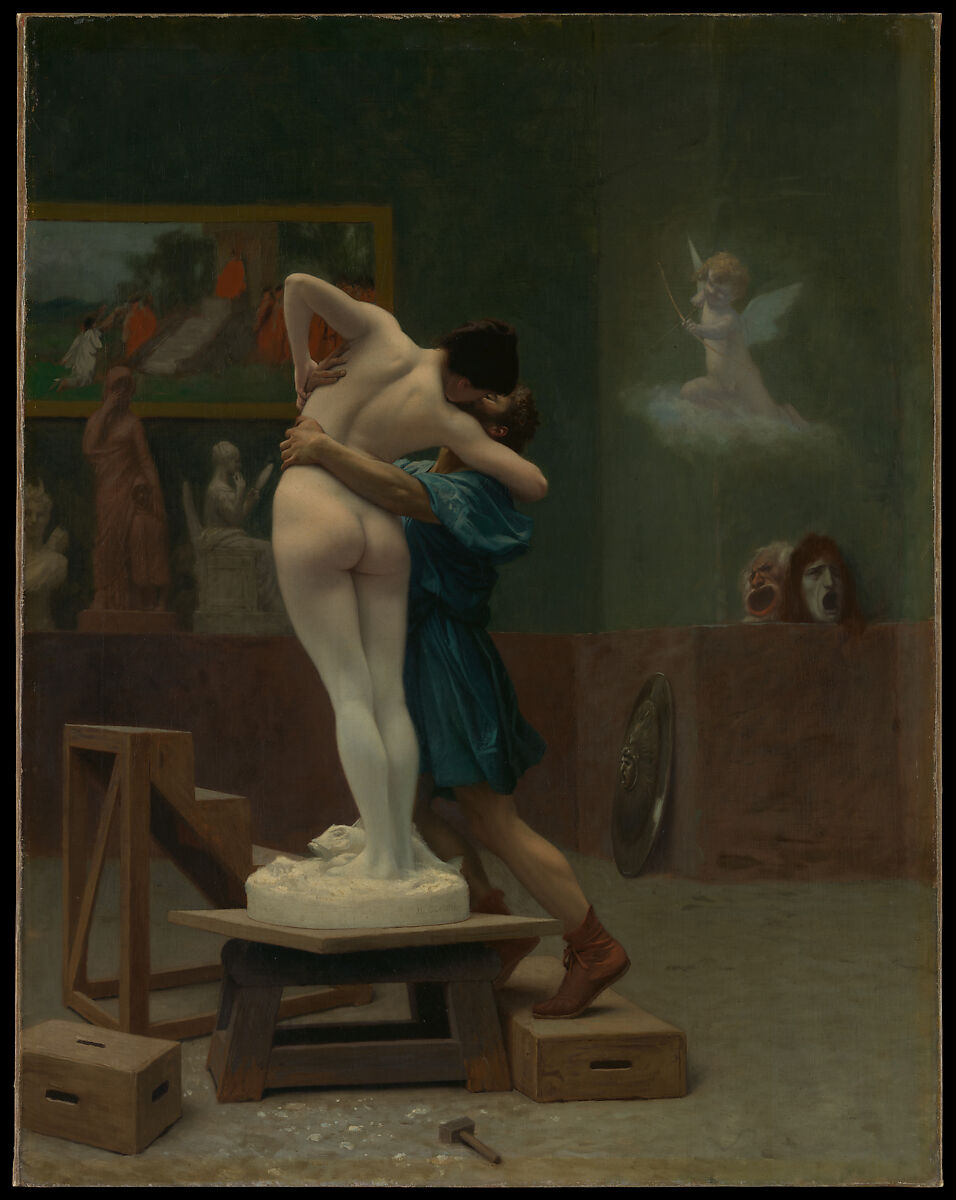 Let us continue with another of the canonical Latin poets!
Ovid, a Roman poet and contemporary of Virgil, recounts the myth of Pygmalion and Galatea in his Metamorphoses. Pygmalion, a Cypriot sculptor disenchanted with real-life women, creates a beautiful ivory statue of a woman whom he names Galatea. He falls in love with his own sculpture and the goddess Aphrodite (also known as Venus) brings Galatea to life. In this painting, Gérôme portrays the moment when the statue of Galatea was animated.
Besides this work, Gérôme continued the theme of Pygmalion and Galatea by creating painted and sculpted variations between 1890 and 1892. So engrossed he was in this project that the artist showed the sculpture of Galatea from a different angle in each of the paintings. The effect on the spectators results in the sculpture being viewed in the round.
Landscape with the Fall of Icarus
Artist: Pieter Bruegel the Elder (possibly)
William Carlos Williams, considered by most to have been a principal poet of the Imagist movement, wrote an ekphrastic poem titled "Landscape with the Fall of Icarus" in response to the painting of the same name. Moreover, another poet who took interest in this artwork was W.H. Auden when commenting on it in his poem "Musée des Beaux Arts."
While the painting is traditionally attributed to Pieter Bruegel the Elder, its authorship was a hot topic for art academics who wanted to prove who was its original creator. After all, what caught these academics' attention was that this artwork features an elaborate landscape with a very large character in the foreground—an unusual choice for artists of this period. However, after much scrutiny and no other artist being linked to this work, it remains in Bruegel's portfolio.
---